Very usefull Tool for SCRUM Board visualisation and sharing for business colaboration.
This tool privides a verry good visualisation of Tasks to be done by Project team members.
Since it is web based you can share the information in teams of several companies located wherever internet connections are available.
You can easily create cards for the tasks, add responsible users to the task and add the estimated effort in hours to the card.
And you can create your own process flow.

Each team member will see his tasks in an overview.
They can add comments and move the card to the next level, when the work is done.
The Manager has a very good impression what is going on in the project and get information on bottlenecks.
The Tool provides reporting functionalities providing graphic charts.
All information can be exported to csv files, which can be used in MS Excel for further reporting requirements.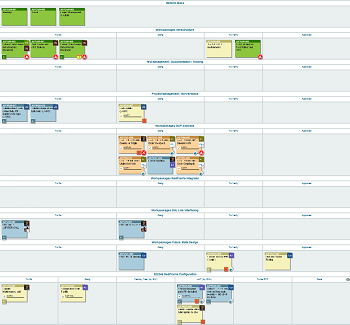 Supplier: http://www.leankit.com
Project proven by Helmut Halper.
If you need consultancy on how to use, just post an email to: Diese E-Mail-Adresse ist vor Spambots geschützt! Zur Anzeige muss JavaScript eingeschaltet sein!